Happy Socks
"Happy Socks - the first socks to go beyond the limits!" - is the catchy motto of the Swedish company that creates the world's most stunning socks. It all started on a cloudy morning in April 2008 when designers Mikael Sonderlind and Viktor Tell discovered that they were both tired of the gray of everyday life and monochrome socks. The idea to turn ordinary socks into design objects came to their minds almost simultaneously. It didn't take long for Happy Socks to become a worthy competitor to the boring, gray and casual socks. Today the concept of Happy Socks is brought to perfection. These bright, cheerful and very high quality collections can be found in 70 countries around the world.
The brand's range includes both classic monochrome socks and socks with an infinite variety of models and designs, with the widest choice of color combinations and original patterns. Simply said, Happy Socks collection always has a pair of socks or underwear for every occasion, taste and style.
Happy Socks are made from cashmere, cotton, merino wool, viscose and hemp. The Happy Socks collection includes both classic sock length and short ankle length or, conversely, socks above the knee.
The company Happy Socks pays close attention to the production of its collections and uses only the best materials and the most fashionable models of socks and underwear.
Those who once dared to try on Happy Socks socks, fall in love with them forever!
Happy Socks brand products can be found on the website.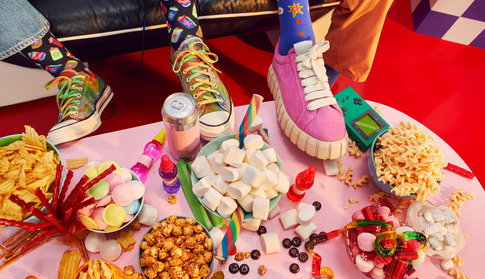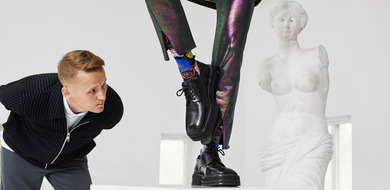 Портрет потребителя
Happy Socks collections are created for the most stylish, brightest and free. The basic collection of socks is distinguished by its wide range, where in one print you can find a pair for HER, for HER and for the most important Baby.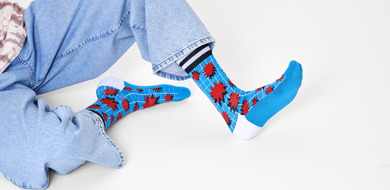 О коллекции
Each season Happy Socks takes inspiration from the mood and rhythm of life in different cities, countries and cultures. The energy and creativity of this approach is the basis for the creation of seasonal collections. Summer can be inspired by Brazil, and winter by Tokyo, the brand is always trying to invent something new, never tired to remind that happiness is in details. The basic line of the Happy Socks collection is supplemented with new wool socks, costume socks and even pajamas.